Review: Hillbilly Elegy by J.D. Vance
Review: Hillbilly Elegy by J.D. Vance
I tend to only review books about business, psychology, and technology on my blog. These subjects interest me. However, I believe "Hillbilly Elegy" by J.D. Vance to be a particularly impactful work to comment on. In fact, it is a treatise on understanding the Appalachian diaspora that affects the region I live in. Anyone growing up here is or has a friend with an elder who came from the hills of Kentucky, if they are not one themselves. There's an interesting culture here, especially from Northern Kentucky up through Southwestern Ohio. Not much has been written or analyzed about our region, which is a shame. You'd think given the difficulties surrounding drug addiction and poverty it might be time that people begin paying more attention to it, especially as it's become a political base for certain politicians.
Hillbilly Elegy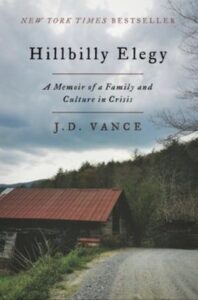 J.D. Vance's story is one of ultimate triumph. A young man growing up in a broken family, he relied on grandparents for stability. While dealing with a revolving door of father figures and a mother dealing with drug issues, Vance is clear headed and observant. There seems to be so many children like this today dealing with the same issues but letting their struggles overcome them. J.D. Vance "got out", joined the military, made his way to Ohio State and ultimately graduated from Yale University's law school. His journey afforded him the perspective to review his life and realize it was not something to be ashamed of, and that he should share it. I found his perspective and honesty refreshing and worth the time I spent learning about it.
Close to home
I am always surprised by how few people who live in our region realize how different it is here. There's a definite mixing of Midwestern and Appalachian cultures that make it very unique. There's also an unspoken level of poverty that resides here as well. For example, I often hear a gripe that Covington, Kentucky lacks a lot of amenities you find in other cities. They rarely talk about how the city has a 25% poverty rate and that people who don't have money can't spend it. Or how Kenton County, where it is located, has over 165,000 people living in it but doesn't even have a movie theater.
Middletown Ohio which is roughly an hour north, mentioned often in this book, has a similar poverty rate. One of the factors plaguing the region are the disappearance of manufacturing jobs. Dayton Ohio, arguably the Silicon Valley of the Mechanical Age, lost many of its founding industries. A large paper mill fled Hamilton Ohio, a steel mill left Middletown, and Wilmington Ohio lost a major employer in the form of a freight carrier that's decimated it's economy. Pin these places on a map and you get a big rectangle with Northern Kentucky at the bottom of it.
Lastly, I chose to enjoy this work with my new Audible subscription. The author is also the narrator, and I like his timing and voice. I have found that a narrator makes or breaks an audiobook, but it's nice to actually here his voice during the performance. I would recommend this book to anyone.